A USB powered warmer for your Fleshjack? I was sceptical at first but then like all Fleshjack products I gave it a try and I'll admit it, I'm nearly happy with my purchase (more on that below). If you're a serious fan and user of the Fleshjack then the sleeve warmer is for you… and the price doesn't hurt.
I can't believe I spent years warming my sleeves up using simple hot water, but I managed. (Sure that sounds sarcastic, but honestly if you used your Fleshack as much as I do you'd understand the effort required). Not everyone like sticking themselves in a cold wet hole, so using the warmer to carefully bring the temperature of the superskin sleeve AND keep it dry is a very nice connivence.
I'm assuming you already know the benefits of pre-heating your Fleshjack before using it. Basically a warm sleeve better mimics the inside of the body where you're normally sticking your penis. My previous advice had been to follow the instructions and run the sleeve under hot water, but this can take more than 10 minutes and makes your sleeve wet before use.
Trying it out
The warmer is very easy to use. Plug it in and wait for the rod to warm up. The green light will be lit while it's charging up, and it's ready to use when the light goes out (and the warmer switches itself off). This is the point when you slide your sleeve onto the hot rod. If you leave the warmer plugged it will keep itself at the correct temperature when it begins to cool down.
Fleshjack originally claimed the warmer can bring up the internal temperature of a sleeve to 135-degrees (57-degrees celsius) in a matter of minutes. After my first experience following the instructions closely, I found the sleeve's internal temperature wasn't all that hot, however the sensation was already far better then my previous experiences using hot water.
For a more in-depth and penetrating review, I tried heating the sleeve several times over the course of a week, and even stuck a thermometer into the sleeve to check the progress, but I never managed to get the temperature above 120-degrees. The best I achieved was around 110-degrees after 30 minutes of warming. Since the warmer is USB powered, it can be hooked up to your computer to operate, but for the best result, as I discovered through my testing, using the provided wall-plug. It also takes between 5-10 minutes to get the warmer hot enough to start warming your sleeve.
Another issue I came across was sliding the sleeve on and off the heated pole. After a few attempts I added a small amount of lube to the warmer and found my Fleshjack slid on without getting stuck. This may not be recommended but it sure helped, and I wouldn't be worried if the warmer actually reached the claimed temperature. You'll find a quick wipe with a damp cloth will be needed to clean up after.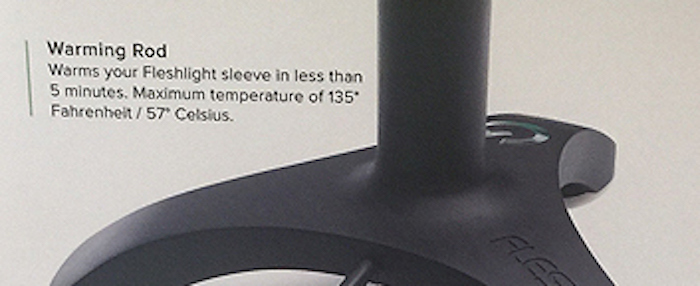 Update: If you check the page on Fleshjack, you'll now see the warmer is meant to reach 105-degrees.
Experience
Aside from the less than optimal warming temperature, the device does warm your sleeve to a pleasant and comfortable temperature. I found the experience using my warmed Fleshjack nearly as enjoyable as when warmed in hot water. I had a warmer experience when I warmed by Fleshjack Flight compared to a larger Fleshjack Original.
The sleeve warmer is probably best for regular Fleshjack users who plan ahead at least 30 minutes (if not an hour) so their Fleshjack has plenty of time to warm up. I let a friend borrow it to warm his and he reported back that it was too much of a bother.
Verdict, buy if you use your Fleshjack several times a week, find pre-soaking your sleeve a pain, and have the sense of mind to get your Fleshjack ready well before you are. If that's not you, save your money and buy a new sleeve.
Reviewed by
James Peters
on June 12, 2015
Updated on February 17, 2020