Ask a gay guy what his favorite underwear brand is and he's sure to have an answer. And there are many underwear brands popular with gay men, from the brands by gay men for gay men to the popular brands.
After searching the forums, digging through polls, shifting through social media, looking at what brands are popular on Hot Gay Deals, and directly asking, we've come up with the list of the most loved under brands as picked by gays.
Many underwear brands don't directly advertise to the gay community but the models they use and how sexy the adverts are presents their underwear in ways that invite us in. Of course no underwear brand would want to be worn just by gay men, they want to sell to everyone.

The hot new up and comer, Garçon Model is the underwear everyone seems to be wearing, including Fleshjack models (those adult film stars). It helps that Garçon is on a mission to make world-class underwear—the styles are hot, the colors fresh and they have personality. Check out Garçon Model's sale page

These hot briefs and jocks come to us from Montreal (the city that also gives us Pierre Fitch). Launched in 2009, Pump! has been putting sport into a fun fashion brand ever since. They're colors and styles are bold, with patterns that follow fashion trends. Check out the Pump! store
4. Calvin Klein

Calvin Klein feels like the grandaddy of sexy mens underwear… since the 80s Calvin Kleins have been the go to fashionable undies. It's the biggest brand on the list and a perennial favorite of gay men… the everyday underwear. Some either love them completely or place them second or third on their list. And they're a good choice. Following the success of Moonlight, Calvin Klein put the men (and boys) from the film in their clothes… something worth checking out. Visit Calvin Klein underwear
They come from down-under… and Aussiebum are what we think of when it comes to sexy Australian underwear. Good choice, nice styles especially their classic briefs. Check out the latest Aussiebum sale

We loved Andrew Christian's supportive and lifting underwear when they first came out… the internal straps to give your butt some lift and help emphasise your junk was great, but we're fallen out of favor with the LA underwear brand (because of course we're shallow and follow the trends)! But gays do still seem to love Andrew's underwear enough to keep it in the top 11! Check out Andrew Christian's sale page today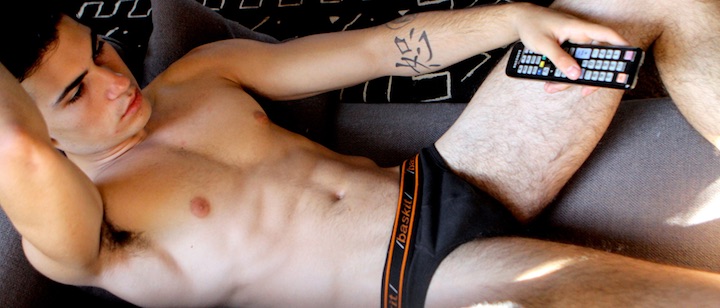 We love Baskit underwear too… although we can never figure out how to write their name… is it /baskit/ or Baskit? It's certainly hot underwear! Check out the /baskit/ or Baskit sale page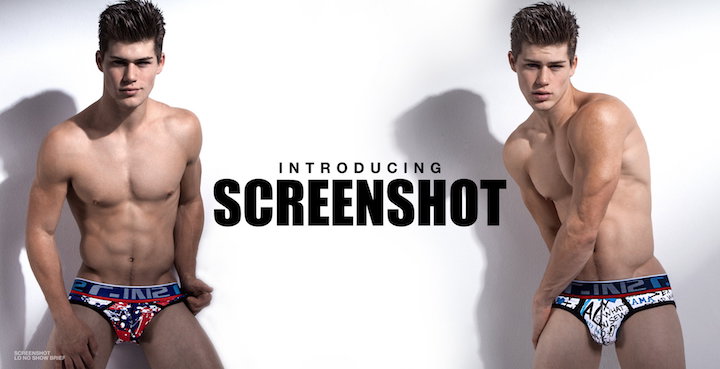 Created by the former founder/designer of 2(x)ist, C-IN2 has taken much of the originality and sexiness from 2(x)ist which has tried to go more mainstream, has lost some of its edge. C-IN2 has a huge range of hot styles in underwear and other apparel, including jocks and active sports underwear. Visit the C-IN2 last call page for a deal

Timoteo should probably be credited with the open-back briefs/jock style that every other underwear brand has adopted. For many years we saw their undies on Fleshjack models and adult film stars, but less so lately. Maybe the brand has fallen out of fashion.
10. Parke & Ronen

We're new to Parke & Ronen, but we can see why their underwear is so well loved (the hot models help too). With fashionable styles on trend, and comfortable and roomy cuts, we can see why Parke & Ronen's underwear (and other apparel) is so popular. Check out the Parke & Ronen sale rack for everything on sale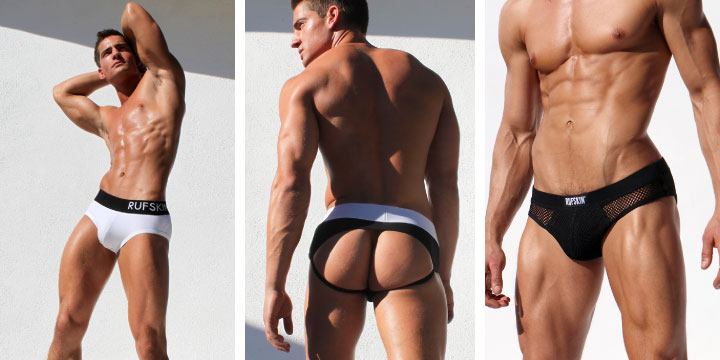 Rounding out our list, Rufskin of LA. Also known for their skin-tight leggings, denim and swimwear, Rufskin brings a bit of fetish to their styling. Their underwear avoids being boring and you won't even find basic essentials in their collection. Check out the Rufskin sale rack