Leather retailers
Leather is hot. Worn either for fashion or fetish, leather is a bold statement. We're big fans of leather for both reasons, and we've purchased from nearly even leather retailer serving the gay community (and from some luxury brands too). You can always see leather on the Paris, NYC or London runways from fashion houses like Balmain, Dolce & Gabbana, Belstaff, Burburry, Rick Owen, DSquared2 and more, and you can expect to pay luxury prices. There are also plenty of good though lesser known leather makers, and we've listed many of them below.
— James Peters, HGD leather editor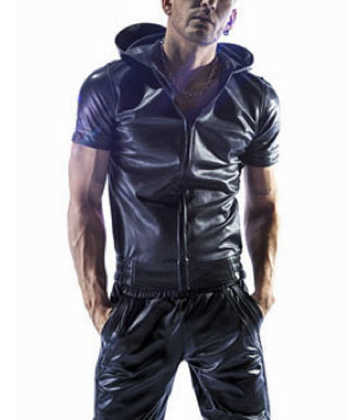 Black Body
We made a special visit to Black Body on a trip to Amsterdam and picked up a pair of the smoothest tight black trouser in a simple jeans style cut. They sell their own and other leather brands, and the staff are helpful and full of advice.
Bockleder
One of our favorite German leather makers, Bock produces their own line of gear including a wide variety of pants styles including super-tight stretch leather jeans, and all at reasonable prices. Bock encourages a younger crowd of gay men who want to wear 'lederhosen' when sneakers and a t-shirt.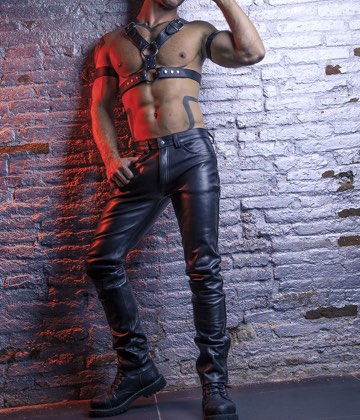 We've only just discovered Boxer Barcelona's hot styles. In addition to standard leather trousers, chaps & trackpants, they have hoodies and perforated shirts that have us planning our next purchase.
Mr. B Leather
Available in their own stores and carried in other leather shops, Mr. B has a great line of hot leather styles including trackpants & shorts, plus kinky items such as their football shorts.
Mr. S Leather
Long time San Francisco leather retailer, Mr. S Leather makes all standard leather styles plus many nice surprises including their hot chap pants (pants styled like chaps without the need to wear them over jeans or with a jock).
Northbound is our go to leather source and we've even had custom pieces made to order. The leather quality, thickness, finish and craftsmanship is by far the best around. Prices may be higher, but it's worth it.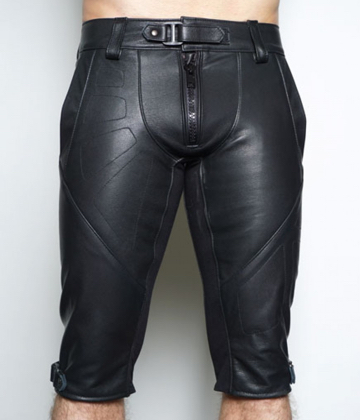 Priape
Another Canadian shop, Priape is an online store selling adult films, underwear and fetish gear including their own leather styles. Priape is one of the few leather retailers producing leather underwear beyond the standard jock, and their Moto line of pants, shorts and jackets inspired by motorcycle racing and given a fetish edge is sure to turn heads.
ROB Amsterdam
Another popular Amsterdam brand, ROB is widely available around Europe with standard styles and their own trackpants (which were early to market and are available in white or red… not just stripes). They're one online retailer that restricts pants sales to in store only (to get the fit correct).