Whether you're just starting out or updating your kitchen, you need the best tools for cooking and entertaining. And it certainly helps to make sure your stuff looks good.
One approach is to hit your local IKEA which always has a wide range of kitchen accessories and essentials. I lean toward the IKEA 365+ series which are well-built, simple and medium-priced. This is not their bottom range of kitchen products, but also not the top of the line. Personally I prefer the monochromatic color scheme especially when keeping a container of utensils on the countertop. I then add splash the color on other feature items. (I've also found the recent IKEA color scheme to be underwhelming).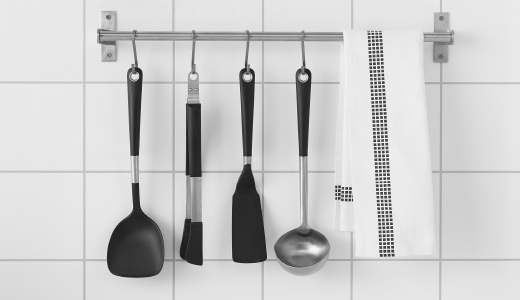 The Nest by Joseph Joseph
Speaking of splash out on color, I'm a fan of Joseph Joseph for the clean lines, well-designed features and of course the bold colors. The nesting mixing bowl set is a must not only for practical mixing and serving, but for easy compact storage in my small-sized kitchen. It helps that this set also includes the sieve, colander and measuring cups all needed for proper food prep. The mixing bowls have non-slip bases so when I'm using them, the bowls don't move about.
On sale the Nest bowls set will set you back $26.95 (46% off!). View the Joseph Joseph Next set on amazon
KitchenAid Artisan mini stand mixer
What serious foodie kitchen wouldn't be complete without a KitchenAid mixer, but with smaller kitchens finding space for the mixer can be a pain. Thankfully the Artisan Mini is 20% smaller and even lighter for lifting and putting away. I'm sure I use mine at least once a week so it stays on the counter ready when needed. My Artisan was a gift and came in Empire Red (that's the pop of color that makes a statement in my monochromatic kitchen). I had picked out (and bought) this Matte Black model which I reluctantly returned when I received the red model for Christmas. (Less learned, get a gift receipt when buy your own stuff… just in case).
You can get the Artisan mini bundled with the very useful flex edge beater for $264.97 (it's a hard to find model costing between $399-499 direct or from Best Buy). View the Artisan mini in matte black on amazon
Silicone whisk set
I've gone through a number of whisks over the years. They're very handy for beating, blending and stirring. My last one broke, so while looking this set caught my eye. I went for the monochromatic set in black but two other colors caught my eye—the 3 color set and the rainbow whisks! My previous wire whisk was stainless steel and should have lasted a lot longer. These new silicone & stainless steel whisks work just as well and have been a lot easier to clean.
They're only $12.95 and have held up really well after 2 years of heavy beating. View the Wire Whisks on amazon