In my last post I included a photo from Northbound Leather featuring my favorite leather pants from their range. We got a few emails about that article and and so I'm not going to share more from my favorite leather pieces. Every season, the European catwalks in Paris and Milan feature a few fashions in leather. Hermes had several models strut down the catwalk wearing leather, either as part of a casual or semi-casual attire. Leather not only feels good, it looks good and makes a great statement. I wear my pants all the time, often with a sweater, hoodie or plain t-shirt. Men shouldn't be afraid to look good or feel trapped by choice. I do take my leather to the extreme, sometimes leaving the house head-to-toe in full leather, but for everyday wear, one item works best. Obviously the most popular choice is to go with a leather jacket, but this has become so commonplace I tend to avoid only wearing a jacket… unless I go with something more daring and provocative. You shouldn't have to. There are many mainstream leather retailers with mall locations, but I've learned to avoid these, which is why I am such a fan of Northbound and RoB of Amsterdam. But a reader pointed out a few good sources for leather including Rufskin in San Diego and 665 Leather in West Hollywood.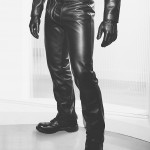 Starting with those pants from Northbound, these form fitting leather pants have an exposed zippered front pouch that is shaped to accentuate your manhood and provides plenty of room. A saddle stitch in the rear allows for the pants to sit nicely and tightly on your ass. There are no back pockets, and only one small pocket in the front hidden with the belt seem line. The front features full length single-piece leather, with only a seem behind the knee. The pants are not too tight around the calves and can be slipped on without extra zippers. They do come with a satin lining, which you could request to have removed, or pull out yourself, after all who wants form fitting leather trousers without feeling them against your skin. (Northbound Saddle Cut pants, Sku #6259)

Another of my favorite pants are these low-rise heavy zippered leather trousers. Aside from sitting low on the hip, they are straight legged and loose fitting. With seven zippered in total, not only are all four pockets zippered, but the two side zips are full length. Also because of the loose fit and side zips, these pants are best worn over your boots, or even a nice pair of sneakers. And Northbound has a number of tops that match these pants, but that's my next purchase. (Northbound Heavy Zipper Leather Low Rise Pants, sku #6469)
This top will probably be my next purchase because it will match the two pairs of pants shown above. But I just spotted this one on Northbound's Facebook page as wore by Northbound's man for February and it's not yet shown of the main website. Thankfully they can custom make anything so I might get this altered without the pocket zippers. The heavy main zipper follows the same exposed crouch zipper on my saddle-cut pants, but this top must have been made to match the low-rise trousers. Two similar tops you can see on their website include this alternative vest with collar zipper and this form-fitted top well matched for the saddle-cut pants.