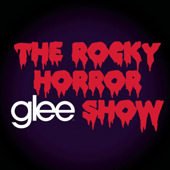 The album is out even before this special episode of Glee. There have been sneak peek photos all over the internet, and now the music from the Rocky Horror Glee episode is available on iTunes.
Glee: The Music – The Rocky Horror Glee Show – Glee Cast
I'm waiting for the next compilation but I am tempted by a few of the singles from recent episodes. I suspect that the Rocky Horror Glee songs will only be available on this album like the Madonna covers. The album is a good deal, btw, as it's only $6.99 and each song in the 7 song collection is individually $1.29.