Brent Everett has been a Fleshjack Boy since 2010, and since he's so popular on the team it doesn't look like his products are going anywhere. The Canadian-born adult film star has three Fleshjack products—two butt Fleshjacks and his realistic dildo.
When Brent first joined the Boys team you could also get his mouth as one of the orifices, but that model proved less popular despite his pouty lips. Just like other Fleshjack Boys, one of Brent's toys is available in the popular Squeeze sensation. The squeeze has a tight entry which quickly transitions into a short tightly-threaded passage before climaxing into a wavy canal.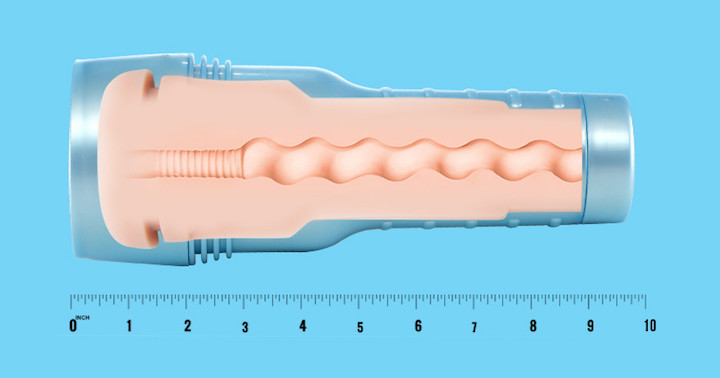 But the real fun happens when you pick up Brent's exclusive Ecstasy texture. Designed after his armband tattoo, the Ecstasy sensation was "inspired by the pure lust Brent brings out in all of the boys". The double-ringed tattoo is repeated at regular intervals through the canal giving you a relaxed and even stroke.
Brent Everett is 5'7″, brown-eyed, versatile and 8″ long. And if you want to pick up your own 8″ piece of Brent, you can purchase his realistic dildo. (You will only be able to insert 7″, but with the 5.5″ girth you may find that's far enough.
Buy your own Brent Everett Fleshjack
Both Fleshjack models retail for $79.95 (US) and the dildo goes for $59.95. You can often pick up Brent's products on sale throughout the year, but if you're looking to get a deep discount on Brent then you'll have to wait until January when he is the Fleshjack man-of-the-month. You can save now if you buy 2 or more of his products—get a discount when you purchase multiple Fleshjack Boys toys in the Circle Jerk sale. Or you can see what the latest Fleshjack sale is on our Fleshjack coupon codes & deals page
Reviewed by
Spencer
on April 30, 2016
Updated on February 17, 2020