I stumbled on something today while browsing around Priape (I was checking the site for deals… that's another topic). Hey now I know porn is about fantasies, but sometimes a studio might be going a little overboard on one genre.
In the new arrival carousel I was presented with four DVDs, and what jumped out at me and made me laugh were the titles. And then I realized there was a theme with three of the videos. So I set about doing some in-depth "research" (I went to the Icon Male website), and you'll be surprised with what I found! (And hopefully you'll get a laugh out of their catalog too).
Icon Male, the studio of director Nica Noelle, produces full-length adult films plus many additional scenes. With Hollywood quality movie posters depicting the theme of each film, you can tell they put some effort into making good porn. Actually they even say that "Icon Male is a unique experience where you have good stories and excellent actors that produce outstanding porn." Read a little further and there's one brief mention of fathers and another of sons but they don't go any further into the common theme that runs throughout.
Let's have a look at some of their movie titles to see if we can spot a trend. (BTW the 13 individual titles or series of titles below that make up the 32 movies I'm highlighting is over half the Icon Male catalog). Since a lot of the same actors appear in the different films, my mind started to see if there's a large storyline here.
Highlights for the Icon Male catalog
First up we have a pretty popular theme… Daddies.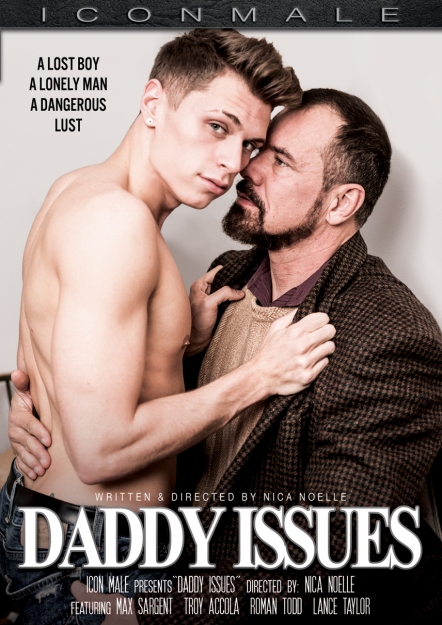 A lost boy. A lonely man. A dangerous lust. These are Daddy Issues. A lonely boy (Troy Accola) befriends an older man (Max Sargent) who offers to help the troubled youth connect with his biological father. But when the gorgeous young blonde is rejected, the older man's comfort turns to mutual lust.
There are 3 titles in this popular series.
"These bad boys need sugar daddies who can fill all their needs. Hot, sexy daddies crave the touch of gorgeous young men – and they'll pay any price to get it. Bad boy Wolf Hudson is about that life, and introduces teenage Ian Levine to the decadent world of sex, power and money. But is there more to these encounters than meets the eye? When emotions an sex are involved… anything can happen."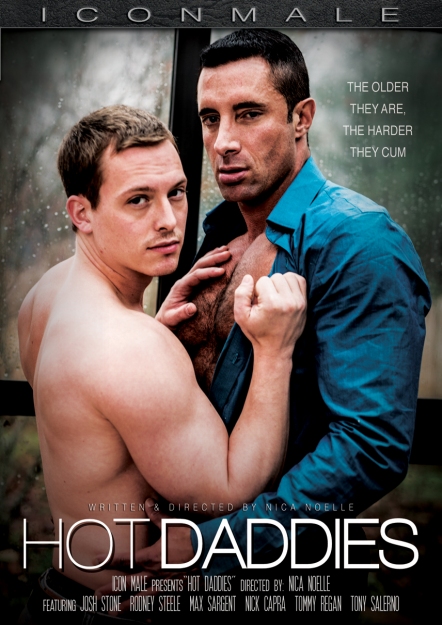 "The older they are, the harder they cum. Hot, sexy daddies are on everyone's wish list and the scorching Hot Daddies offers the hottest and most well-hung older men in gay cinema. In this offering of both older/younger and all-mature sex scenes, you'll discover why daddies are known for making men of all ages come harder than they ever have before."
It might be the older they are… the hard it is to cum.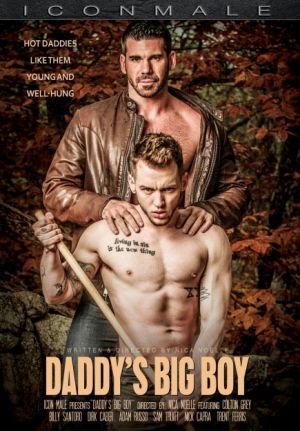 What's it about? "Distinguished Adam Russo has a craving for young and dangerously hung Sam Truitt, Billy Santoro tames sexy bad boy Colton Grey, Muscle daddy Nick Capra falls for hot teen Trent Ferris and Daddy Dirk Caber pays a late night visit to pretty boy Colton Grey."
Again we're still dealing with 'daddy' as a name for an older man.
Oh good, a film with some religious themes, and there's hardly ever any issues with priests and young men.
Come inside a priest's confessional, where guilt ridden parishioners beg for forgiveness for their sins of the flesh. From guilt ridden teacher Nick Capra who falls in love with troubled, young student Armond Rizzo, to former priest Lance Hart who left the church when his desire for parishioner Tommy Defendi became too much to bear. We also find devoted husband Trenton Ducati plagued by shameful lust for his hot young brother in law Seth Santoro, and young swaggering soldier Ty Roderick who unexpectedly falls for 'pretty boy' Casey Tanner.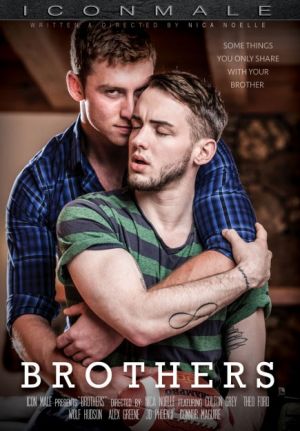 At first that title threw me… but a little reading of the description calmed me down.
"Sensitive, insecure Charlie (Colton Grey) finds himself falling for his new stepbrother, athletic and confident Sean (Connor Maguire). But Charlie soon discovers that his older brother is tormented by a dark secret, and the only cure for his pain is a love too forbidden to speak of. A scorching tale of erotic redemption starring Colton Grey, Connor Maguire, Theo Ford, JD Phoenix, Alex Greene and Icon Male Exclusive Wolf Hudson."
Okay, so they're only stepbrothers.
They made three in this series… so far.
"Gorgeous Nick Capra stars as the perfect dad who finds himself struggling with an intense attraction to his daughter Siri's new boyfriend (Connor Maguire). As Nick and Connor grow closer, Siri learns that Connor may not be what he seems, and that it may be her father the young, muscular hunk that he really craves. You'll be wondering how this charade will turn out and who is really attracted to who in His Daughter's Boyfriend."
"He could have any man he wanted, except one – his sister's lover."
But let me guess… he does have his sister's boyfriend. It seems likely.
"Sexy loner Angel (Tommy Defendi) is caught in a cycle of one night stands and meaningless hook ups, much to the dismay of his protective older sister Francesca. When Francesca becomes engaged to sensitive, young Eric (Duncan Black) she brings him home to meet her brother, hoping Angel will be inspired to find true love of his own. Little does she know that her perfect fiancee harbors sexual needs that only her hot, well-hung brother can fill."
"Conservative single father Adam Russo disapproves of teenage son Sam Truitt's mysterious new friend, Colton Grey. But when he learns that the sexy, blue eyed teen is homeless, David agrees to let his son's friend stay in the family guest room. Soon, an intense mutual attraction develops between the distinguished older man and the sultry young bad boy. Will caring father David confess his forbidden gay desires?"
Such a caring father… opening his home to this homeless boy… and in turn Colton opens himself (well his hole) to Adam.
"Every family has a few dirty secrets. When reformed bad boy Johnny (Roman Todd) settles down with caring new wife Charlotte (Victoria Skye) he vows to stay on the straight and narrow. But when Charlotte's younger brother Jayden (Calvin Banks) comes to visit, horny Johnny can't help but notice his teenage brother-in-law is hung like a horse. As sexual tension builds between Johnny and Calvin, Charlotte's gorgeous friends Eric (Billy Santoro) and Paul (Griffin Barrows) take the opportunity to hit on the hot new brothers."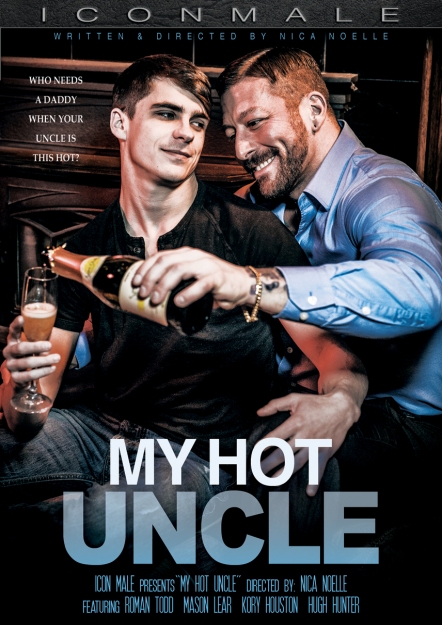 "Who needs a daddy when your uncle is this hot? When young stud Kory Houston's mom gets remarried, the sexy teen meets his new uncle (Hugh Hunter) and can't help but develop a crush. With his mom off on her honeymoon, Kory slowly gets to know the muscular older man, and finds he has quite a sex life. Meanwhile, Kory settles for being a booty call to his math tutor (Mason Lear). But when Mason discovers his boyfriend (Roman Todd) has been fucking Kory's uncle, all bets are off in this fanciful romantic drama."
It could be worse… but as an uncle… I can't even go there.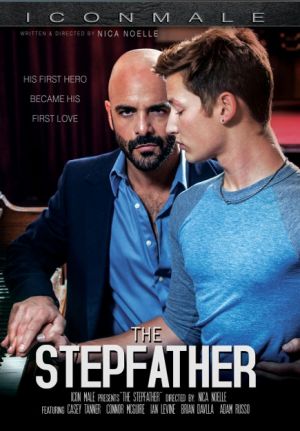 What's it about? "Closeted, middle-aged CEO Adam is engaged to be married to a beautiful woman, but when he meets his fiancee's teenage son Casey Tanner, his secret gay desires become stronger than ever. Can Adam resist the charms of his slender-bodied, pretty blonde stepson? Or will Casey's controlling boyfriend Connor Maguire expose Adam's web of deceit first?"
Another series of three films all about the torrid affair between a man and his stepson. The plot sounds like a soap opera, but I doubt anyone falls into a coma. That leaves us with our final film… or films, as there are a grand total of five in this last series… and I think I've saved the best for last with…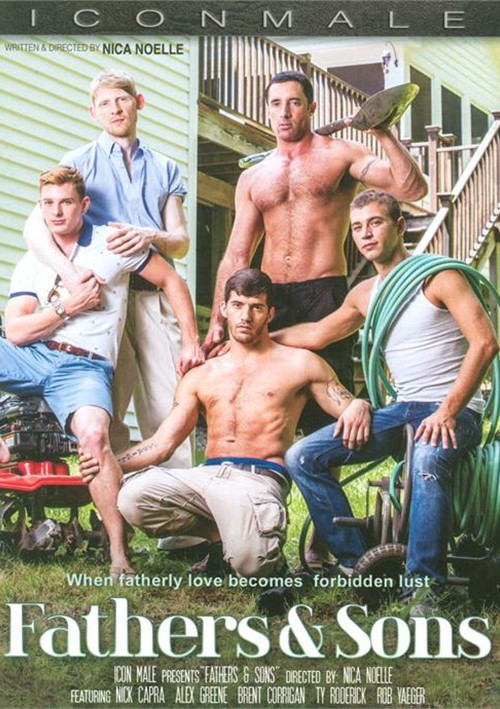 "When fatherly love becomes forbidden lust. Long time friends Douglas (Nick Capra) and Scott (Rob Yaeger) have watched each other's sons Daniel and Noah (Brent Corrigan and Alex Green) grow up into strapping young men. But when the fathers and sons get together to celebrate Daniel's 18th birthday, Douglas is faced with a sudden attraction to young, athletic Noah. Meanwhile, daddy Scott is seduced by vulnerable, sex-starved Daniel. Filmed in picturesque New England, Fathers & Sons is destined to be a classic."
Errr… yes, picturesque New England. That makes all the difference. At least 18 is legal, nice of Nick/Douglas waited.
There you have 32 titles spanning 13 different Icon Male movie series all about the love between male family members. Maybe I'm seeing a pattern that's not there… or maybe I'm also imagining what other stories they've yet to tell. Foster brothers get together (I've heard of it). Twins — of course, why not. And let's not forget there's plenty of cousins out there.