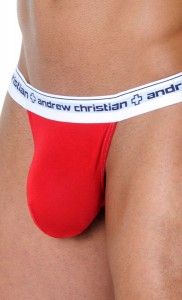 Expires today at midnight Pacific
The anatomically correct pouch in a sexy European thong cut. Feels like you're not wearing any underwear at all. Hang-free design with no hidden cups, straps or padding. Extra room in front, just where you need it. When you pull them on your package falls naturally into the super soft snuggle pocket to create a truly enjoyable unique wearing experience. Available on sale in Navy, Red, and Royal only until midnight Dec 22. Regular price $19, price with coupon $14.44.
andrewchristianshop.com will open in a new window, leaving this window open with the coupon code redeemed.