Posted on: January 30, 2011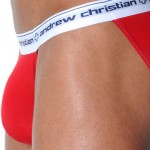 Now until midnight Pacific January 31, save 21% off the Almost Naked extreme brief in navy, red or royal from Andrew Christian with the coupon code. Regular price: $20, on sale with coupon code: $15.80. Want something else from Andrew Christian? There's also a 10% off everything coupon code valid until January 31.
The anatomically correct brief with Andrew Christian's European cut (which makes it more like a jock with a full-butt), feels like you're not wearing any underwear at all. The hang-free design has no hidden cups, straps or padding and extra room in front, just where you need it. Constructed from super soft rayon made from bamboo fiber with Anti-Muffin Top elastic to minimize the appearance of love handles.