Posted on: March 6, 2012
Looking for something to watch? There are a few movies kicking around the iTunes store for only 99 cents (or 99p in the UK). Pick up Boy Culture [iTunes link], The Trip [iTunes link], Finding Me [iTunes link], Eighteen [iTunes link] and Children of God [iTunes link] (other regions linked below).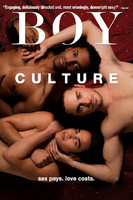 Boy Culture
A successful male escort describes in a series of confessions his tangled romantic relationships with his two roommates and an older, enigmatic male client.
The Trip
Tommy (Steve Braun) is a sexy, blond, gay activist who meets the handsome, muscular Alan (Larry Sullivan), a closeted Republican, at a party in 1973. An intense love affair ignites, setting in motion a torrid and unpredictable relationship that steers its way through the turbulent political and social climate of the '70s and '80s. The Trip blends farce and tragedy, fantasy and reality, and features a quirky cast of supporting characters including indie-fav Alexis Arquette, comedienne Julie Brown and former Bond-girl Jill St. John as Alan's outrageous mom.
Finding Me
Independent African-American gay cinema is given a refreshing, realistic twist in this seductive drama. Faybien Allan is young and stylish, appearing with hip friends at NYC's trendiest spots. But beneath the sparkle of his nightlife and stunning good looks is a man buckling under his father's homophobia. Full of self-loathing and desperate for direction, he meanders through life until meeting Lonnie, a confident activist with a flirtatious smile. Despite obvious chemistry and fireworks in bed, Faybien's insecurities have him looking for the door. Can a budding romance and a few good friends keep him from making the biggest mistake of his life?
Eighteen
Telling two distinctly different, but related, stories, Eighteen is an accomplished drama about forgiveness, love and family.
Children of God (2010)
Blond haired, blue-eyed Johnny travels to the island of Eleuthera intent on finding some artistic inspiration. After arriving, he meets the confident, attractive black musician Romeo and it is instantly clear that there is a spark between them. Although Romeo has a fiancé, he has secretly played with boys on the side before — but Johnny is not just any boy, and soon their relationship becomes far more intense than a simple fling. Struggling to overcome rampant homophobia, and an anti-gay crusade erupting around them, it is going to take more than wishful thinking for their love to last. A beautifully shot, captivating romance, CHILDREN OF GOD paints a universally relevant portrait of desire, sexual conflict, tolerance and self-acceptance.
Go to deal »